Is your chill-zone a little colder than usual? Do you have a room in your home that is a little too cool? If so, don't worry!
Ignite Heating is going to give you 5 helpful tips on how to combat cold spots to keep your home nice and cozy this winter.
If you are noticing that there is a room or section of your home that is colder than the rest, you are going to want to do a quick inspection of your home's heating vents, ductwork and thermostat readings. This should be done at least once a year so this is your reminder to add it to your calendar.
Let's get started!
Inspect Your Heating Vents.
One of the most important things you can do to ensure your home's heating system is functioning optimally is to inspect each of your heating vents. If there is furniture blocking a vent, you'll need to move it and rearrange the room to allow plenty of airflow.
Examine the outer grates of each vent for signs of dust or debris buildup. If the grates are dirty, clean them with a damp cloth. If the grates do not appear dirty, remove the duct cover to inspect the inner vent. You may see dirt lines on the inner vent, which could indicate a problem or simply need cleaning.
Using a flashlight can help you get a better look inside the vents. You can also take pictures with your smartphone to get a better idea of what's going on inside.
Check The Thermostat.
First, you'll need to get a thermometer and tape it onto the wall next to your thermostat reader. Make sure to place a paper towel behind the thermometer to prevent the transfer of hot or cold wall temperatures. This way, you'll get an accurate reading of your room's temperature.
Next, leave the thermometer there for 15 minutes. After that, check the readings on both the thermostat and the thermometer. If they are more than one degree off from one another, then you may have a faulty thermostat.
We know this stuff can be a bit confusing, so don't worry if you're a little unsure. If you need some extra help, our team at Ignite Heating and Air Conditioning is here for you! We specialize in high-efficiency furnaces, two-stage furnaces, and multi-stage furnaces. We can help you get your thermostat working perfectly, so you don't have to worry about uncomfortable temperatures in your home.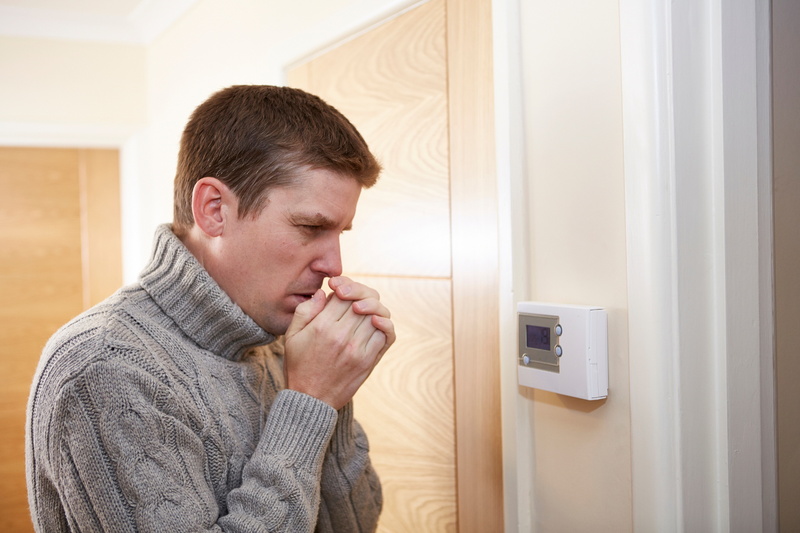 Test Your Wall Temperature for Cold Spots.
If one wall in your home is far colder than the others during winter, the problem might have less to do with your furnace and more to do with degraded insulation.
Spray foam insulation can be used to improve or fix the cold wall issue. It will help trap heat inside the home and prevent it from escaping through the walls. This means that you won't have to turn up the heat as much, which helps keep your energy bills down!
Inspect The Ductwork.
It could be that you're experiencing cold spots due to air leaks in your ductwork!
Air leaks can be limited to one or two rooms, or it could be a more widespread problem throughout your home. Depending on how many ducts you have, it could be a single weak vent causing the issue, or insufficient venting in general.
Fortunately, there's an easy and cost-effective way to get your ductwork back in tip-top shape: using a gap-sealant product, such as an HVAC sealing tape. If you're worried about air leaks in your ductwork, don't hesitate to contact us for help. Our professional HVAC technicians can help diagnose the issue and recommend the best gap-sealant product for your home.
Book Your Furnace Maintenance.
If your home is heated by a single-speed blower furnace, then you may notice cold spots throughout your home—a hallmark of this increasingly outmoded technology. While it may be tempting to push your heating system into overdrive, the best course of action is to bring in a professional.
At Ignite Heating, we understand how important it is to have a functioning furnace. Our team of experienced technicians can quickly identify the source of your heating issue, whether it's something simple like a broken thermostat, or a more complex problem like a malfunctioning blower fan. We can also help you upgrade to a more efficient and modern furnace that will provide uniform heating throughout your home.
Don't let cold spots take over your home this winter. If your furnace isn't doing its job, we can help! The team at Ignite Heating is here to help with all your furnace repair and installation needs. Contact us today for your prompt quote!