Enjoy the superior quality Napoleon Furnaces
Ignite Heating and Air Conditioning Ltd. is a top-performing Canadian dealer of Napoleon® furnace products.
Napoleon® started in Ontario in 1976 and has since grown to be one of North America's largest privately-owned manufacturers of residential heating & cooling equipment, fireplaces, stoves and grilles. Their stellar reputation has led to them being named among Canada's Top 50 Best Managed Companies for several years running. Their advanced manufacturing processes, precision engineering and innovation are behind all of its products, from ductless air conditioners to high-end gourmet gas grills – each with the company's commitment to craftsmanship and quality.
For customers of Ignite, it means you are getting dependable heating and air conditioning products that are well-supported and backed by comprehensive warranties. Napoleon® creates its heating and cooling products in various sizes to be used in almost every home or commercial office space. 
Napoleon Gas Furnaces
In almost every way, natural gas is superior to other heating options. Natural gas heating is an affordable and efficient heating standard typically operating from 95% to 97% efficiency. Using a natural gas furnace produces fewer carbon emissions than other heating alternatives, including burning coal or petroleum products to create heat directly or to create than using coal or petroleum products to generate energy.
In addition to saving on your energy bills, you will also be able to rest comfortably knowing that Napoleon furnace products, along with our services, will support your home so it can function year-round – indoors and outdoors.
Our technicians are available to help advise you on what Napoleon furnace model would best suit your needs and environment.
Some popular Napoleon® furnaces are outlined below: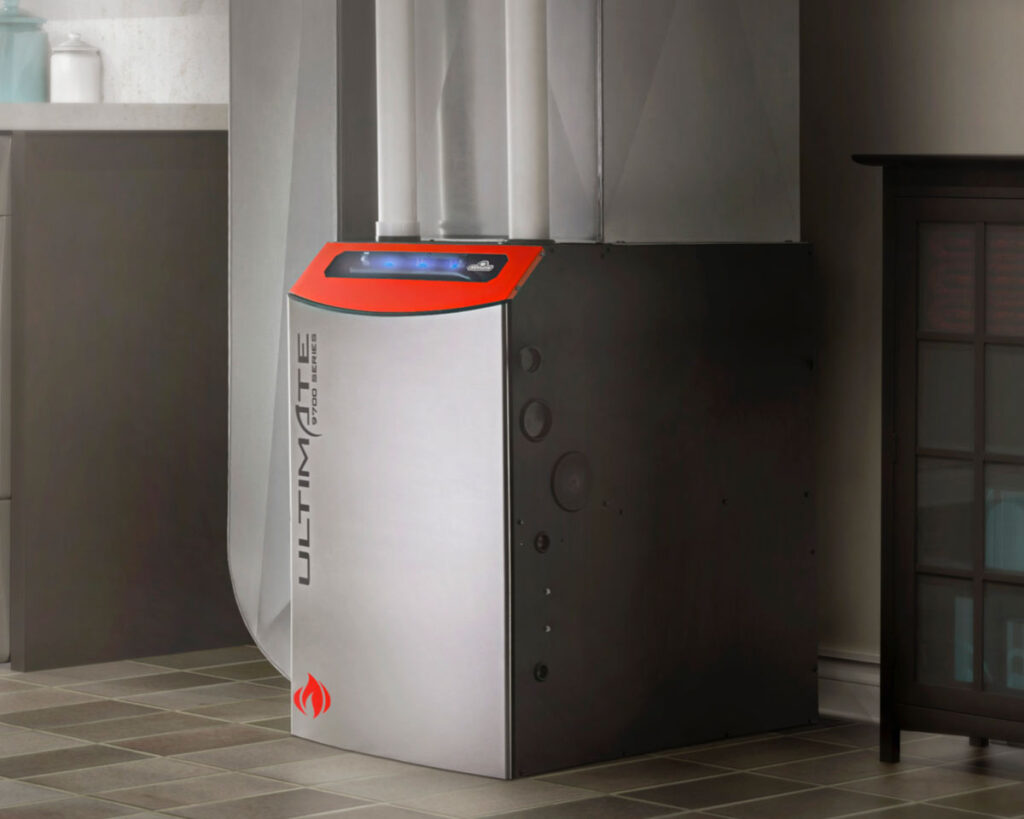 Ultimate 9700 Series Gas Furnace
UP TO 97% AFUE
2 STAGE, VARIABLE SPEED
UV-C TECHNOLOGY INCLUDED
WHISPER QUIET™ OPERATION
The Ultimate 9700 Series Gas Furnace represents the pinnacle of gas furnace design and technology. Made right here in Canada, the 9700 Series utilizes a two-stage heating system designed to deliver a consistent temperature throughout your home, even on the coldest of days. 
Napoleon® has implemented its WHISPER QUIET™ technology which will smoothly adjust the motor's speed to regulate air intake quietly. The 9700 Series has additional insulation to reduce unwanted and distracting noise.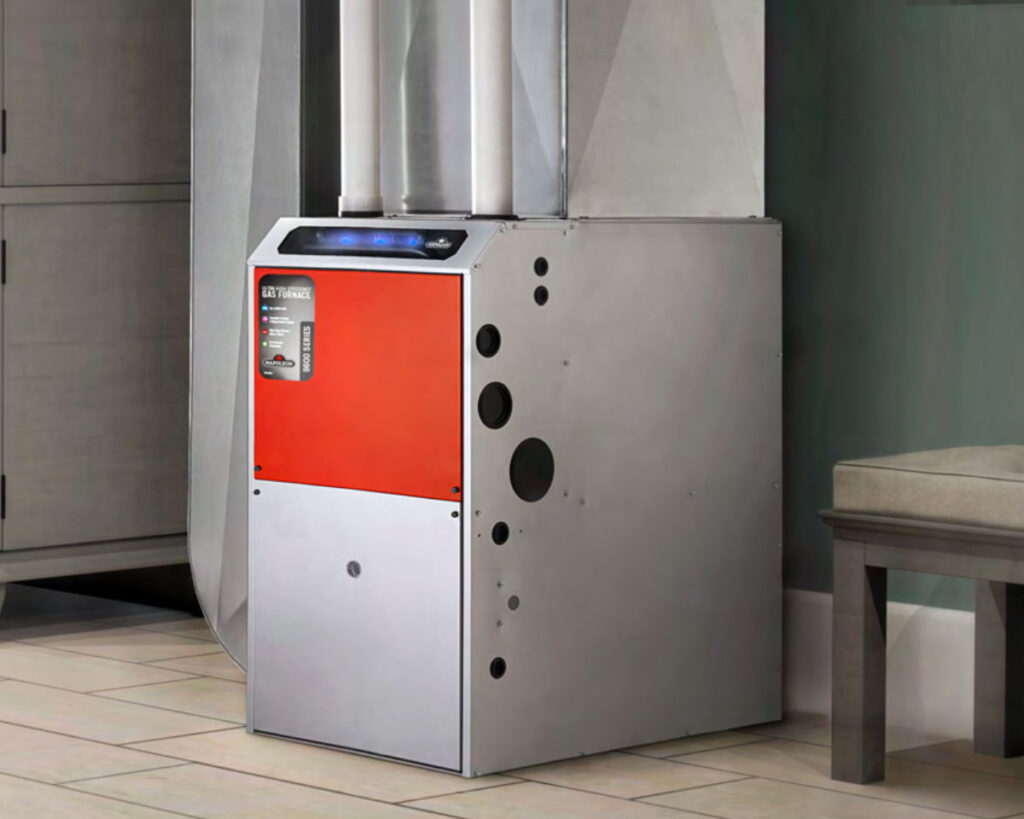 UP TO 96% AFUE
2 STAGE, VARIABLE SPEED
WHISPER QUIET™ OPERATION
The 9600 Series Gas Furnace is one of the company's most efficient and attractive furnace offerings. They are utilizing a two-stage heating system. The low-fire stage is employed during milder weather, and the high setting is automatically activated in cold weather to provide the extra volume of heat for your home. Designed for reliability, performance and efficiency – the 9600 Series will impress you through the Albertan winter days and nights.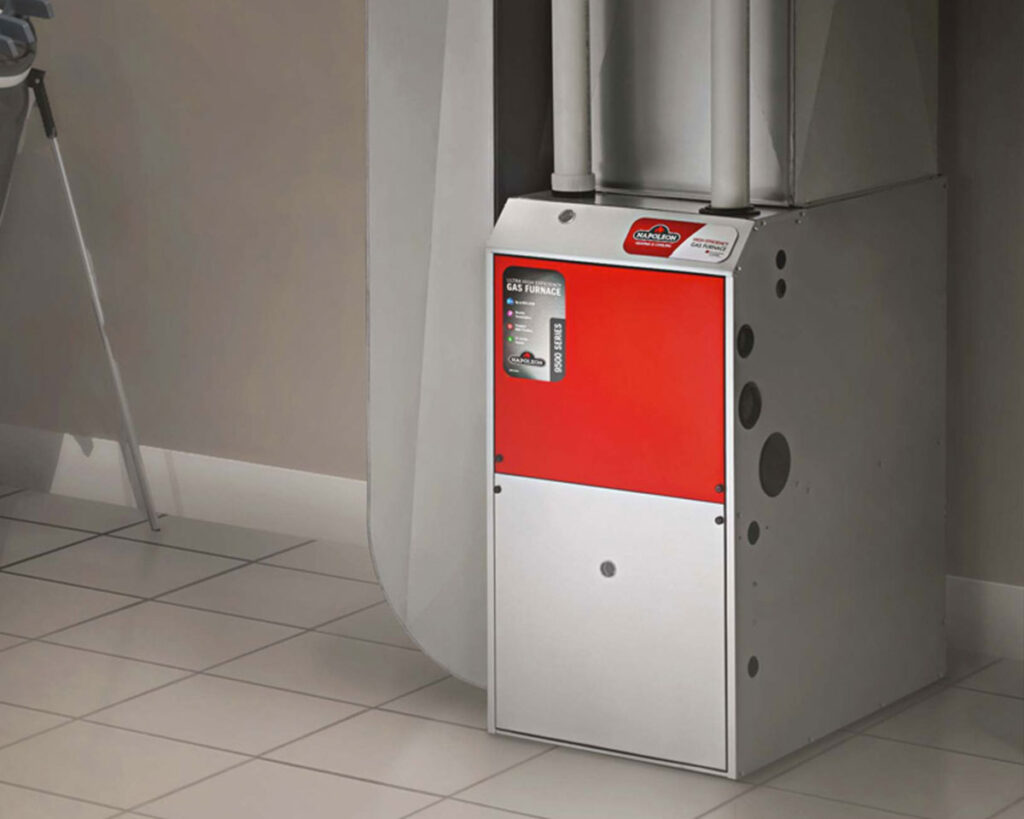 UP TO 95% AFUE
SINGLE STAGE
WHISPER QUIET™ OPERATION
The 9500 Series is a high-quality gas furnace that utilizes an EnerSave Pro motor for efficiency. The company's advanced engineering and design make the 9500 Series one of the most reliable gas furnaces available. Its near-silent operation and flexible installation options make the 9500 Series an excellent choice for a gas furnace for many home designs and through all seasons. Enjoy  warm, reliable temperatures all winter long with your new furnace. 
Get professional HVAC service from Ignite Heating and Air Conditioning Ltd.
When deciding on a professional for your HVAC service, Edmonton has the team at Ignite at your disposal. We will help you make the right decisions for your home gas furnace and A/C equipment. Our relationship with Napoleon® will ensure that you are getting the best quality products for your home. If you need HVAC repair or replacement, our trained technicians are ready to help. Don't get trapped in the sweltering heat or cold – contact the experts at Ignite.
Don't get trapped in the sweltering heat or cold – contact the experts at Ignite.