Air Filtration for Your Home
Ignite Heating and Air Conditioning offers home air purification system to remove indoor air contaminants.
The HomeShield™ UV Purification System is an ideal choice for your home, offering medical-grade, cost-effective UV light treatment to eliminate pollen, mold spores, dust particles, dander, dust mites, viruses and bacteria from your environment.
With the HomeShield™ UV Purification System you will be able to breathe easier, reduce the harmful effects of allergies, and enjoy a happier, healthier home.
How does the HomeShield™ Ultraviolet Light Air Purification System work?
This air purifier works by physically altering microorganisms via sterilization – in turn preventing the spread – and propagation – of these airborne organisms by tackling them at the airflow source. Treated with powerful UV light, these microorganisms are rendered harmless. The HomeShield™ UV Purification System uses a specific light that works on the UVC spectrum. This safe UVC radiation will disrupt the chemical bonds of particles in a process called photoionization. It effectively kills airborne viruses without posing harm to humans and animals. Recent studies have shown that the use of UVC air purification reduces the spread of airborne microbial diseases in public spaces, such as hospitals, schools, airports, aircraft, and clinics. 
Consumers can now take advantage of this same technology that once was costly and seen only in hospitals and commercial-grade equipment.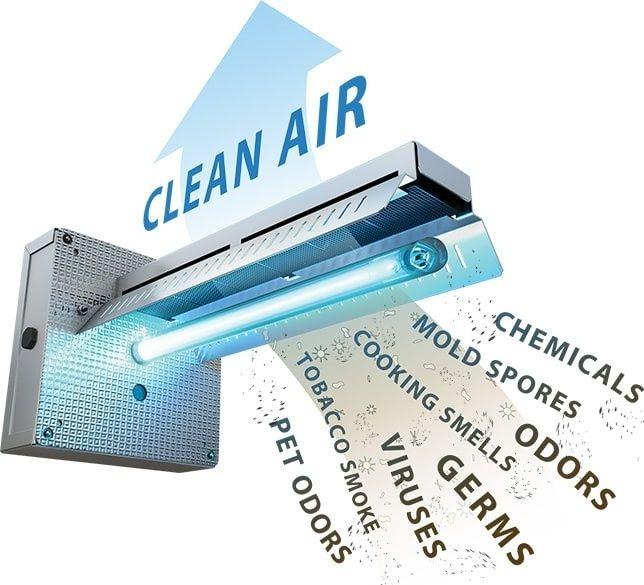 Improve the air quality of your home
It isn't just the winter months that keep us indoors, Canadians are spending more time indoors for work and school and Ignite Heating and Air Conditioning Ltd. is here to help you create a healthy and comfortable living space. We can install a UVC purification system in your home that can work with new or current heating and air conditioning units.
Connect with us today and get a free quote on getting a HomeShield™ Ultraviolet Light Air Purification System installed in your home. Prevent the proliferation of airborne pathogens, pollen, and other harmful particles with a medical-grade UV air purifier.