Napoleon ductless heat pumps and air conditioners are able to heat or cool your home without a duct system. These ductless systems can be ideal in a variety of applications including whole-house heating and cooling. Ductless systems have two key components, an indoor wall mount unit and an outdoor unit. Both units work together to manage comfort levels. Air conditioner models offer cooling, while heat pump models offer both heating and cooling. There are some unique situations in which going ductless has definite advantages:
1. Condos, additions, garage apartments, bonus rooms and sunrooms
Getting a properly sized ductless unit in one of these spaces won't steal air from other rooms or overload your main HVAC system. Or maybe there isn't ducting to the new space, so a ductless unit would be perfect for adding heating and cooling to that particular room. These small convenient units are perfect for condos and apartments where space is limited or ducting is impossible.
2. Downsizing in a large home
Many people don't need to heat or cool their entire house. The main benefit of ductless is that you can heat and cool only the rooms you choose. For maximum efficiency you can install a ductless system in the master bedroom and set the house's main thermostat to run minimally. This will not only help save money but also lengthen the lifespan of your main HVAC system.
3. Create multi-zones
Does your family constantly fight over the perfect thermostat settings? Ductless is ideal for creating independent temperature zones in different rooms. If your space is too large for one ductless system, Napoleon's multi-zone ductless system is the perfect fit. The multi-zone offers up to 4 indoor units that operate from one, powerful outdoor air condenser. The indoor units can be distributed throughout the home and set to individual temperatures. Indoor options include wall mount units or cassettes. With a multi-zone system, everyone can enjoy custom temperatures throughout the home all year long.
4. Your specific needs
Maybe you have one room with a large south-facing window? Could that room use an extra boost with a ductless air conditioner? Without installing extra ductwork or adding a whole home A/C unit you could cool that one warm room to make it more comfortable all summer long.
More Control
Napoleon's ductless heat pumps and air conditioners include a remote control for the indoor unit. The remote control allows you to conveniently monitor and adjust the temperature settings of your home.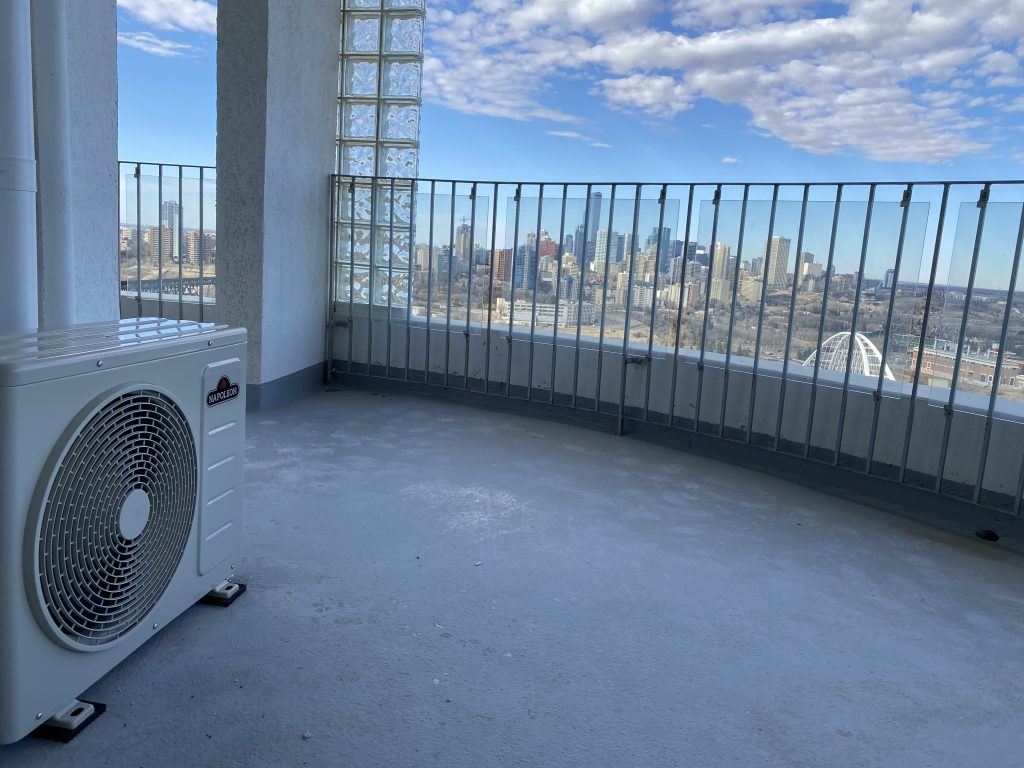 How do they work?
Simply defined, ductless heat pumps and air conditioners (also known as mini-splits) link individual room units to an outdoor compressor. As an alternative to central HVAC systems that are connected by long lengths of ductwork transporting warm and cool air back and forth, a mini-split system places small ductless units directly in each room. These less intrusive units blend in and are very energy efficient. Ductless split systems don't lose air through leaks in ducts. With traditional HVAC systems, 20-30% of energy is lost through ductwork.
What is the best size?
Deciding on the best size ductless unit for your needs is simple. Calculate the room's square footage including additional spaces such as closets, then use these measurements to determine the BTUs required for that space. Here is an example of typical spaces and sizes necessary:
Space to be cooled: 150 to 250 square feet; Capacity (in BTUs per hour): 6,000
Space to be cooled: 250 to 300 square feet; Capacity (in BTUs per hour): 7,000
Space to be cooled: 300 to 350 square feet; Capacity (in BTUs per hour): 8,000
A ductless heat pump and/or air conditioner is also a great option if your existing system can't handle the addition of a new space and you're not prepared to replace your current HVAC system. Or maybe your current HVAC system is reaching the end of it's life and you can't afford to do a complete replacement. You may be able to postpone an upgrade if you put in a split system to heat and cool additional spaces.
So if you're looking for an option to add heating and cooling to a new space or a specific room in your home, consider a ductless heat pump and/or air conditioner. Contact us to get a free quote fo all your HVAC needs, including ductless mini-split units. Call (780) 919-4916 or email us today. At Ignite, your comfort is our concern!