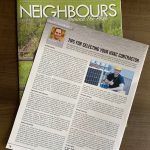 We recently shared our tips for selecting your HVAC contractor in the August edition of Neighbours Around the Park, a local magazine here sent to acreages in Sherwood Park. We wanted we'd share an excerpt here to help you out!
---
Tips for selecting your HVAC contractor
Choosing your HVAC contractor can be a difficult decision to make, as not all contractors are the same. Doing your research may mean the difference between getting a solid, professionally installed air conditioner or furnace or just getting ripped off. We're always taught that not all mechanics are the same, and that goes for your HVAC contractor as well.
1. Written Quotes
Be wary of any HVAC contractor that tries to give you quote over the phone. There are far too many factors to consider that a technician cannot see over the phone such as ducting, return air and position of furnace room in your home. None of this can assessed over the phone, so if someone gives you a quote over the phone, they are either inexperienced, or are trying to gain your business without taking into consideration the full scope of the project. When a contractor is there to assess the project, also be wary of anyone who gives you a quote without properly surveying your house. A real contractor will check your crawl spaces, walk around the entire house and may even take pictures of the project. If they don't do this, then they aren't properly inspecting your house for installation of your equipment. Your quote should be unique to you, as all homes have different requirements based on the comfort level you require and design of the house. A timely quote is also something to consider as it can demonstrate the way in which a job will be completed.
For example, at Ignite Heating and Air Conditioning, I provide free written quotes after a job site visit is completed to ensure I have accurate measurements and that product selection has been made. This ensures all parties involved are aware of the scope of work and the price to complete the work. When myself or someone from my team comes out to the job site to take measurements, we also block off the time for you to answer any questions about Ignite, the products we use and our installation process – I want you to feel confident in the investment you are making, whatever the job is.
2. Experience and Insurance
When it comes to how experienced your HVAC contractor is, take it with a grain of salt as experience isn't everything! Be wary of someone who is telling you they have been "doing things this way for twenty years" because the heating and cooling industry, like all technology, is always changing. There are new and exciting technologies that decrease your utility costs and are more efficient at cooling. Be sure your contractor is well versed in cutting edge technologies, including the most up-to-date HVAC control units such as a smart thermostat that runs your home's AC system for you, programmable with schedules and preferences.
Experience is important, but it isn't everything. Your HVAC contractor should have a sheet metal or refrigeration journeyman certificate. Other training courses like, a Heating Refrigeration and Air Conditioning Institute of Canada (HRAI) Certificate. Other licenses to look for include ensuring they have a business licenses for your area, so that they can pull the appropriate permits you may need. It is also important to choose a HVAC contractor that is insured so you can financially protect your home from damages.
3. Quote Assessment
In some cases, a lower price doesn't always mean it should be your first choice as it could mean you end up paying more in the long run. Paying a little bit more will often result in better equipment and service from an HVAC company. If there are huge discrepancies in price from one company to another, ask them why their prices are set that way. For example, higher prices can indicate better quality of equipment, training of technicians, and above average warranty agreements. A higher price can also indicate they've accurately captured the scope of the project, where as a company with a lower price may have missed including something in your price that will be an extra charge in the future.
An example of this is that unlike other HVAC companies, Ignite installs Napoleon products that come with a lifetime warranty on the heat exchanger, as well as a 10 year warranty on parts and labour on all furnaces. The difference in the quotes is often in the details of the warranty provided, so always check to make sure you are comparing apples to apples!
4. Customer Reviews
Ask your friends, family, or neighbours for HVAC contractor referrals. If you can't get direct referrals, search local business directories with customer reviews. It is important to aware that some companies choose to pay or provide incentives for reviews on facebook and google, remember one tell-tale sign is if there is a sudden influx of positive reviews, these individuals may have been paid or provided an incentive to do so, and these may not be honest reviews.
5. Product Selection
Replacing your HVAC equipment is a big investment, which is why it's important to thoroughly research all your options. Choosing the right HVAC contractor also means considering which brand of equipment they install. When investing in an HVAC system, you'll want to choose a reputable manufacturer with a good track record of quality. Most manufacturers offer products tiered in a good to best fashion with differences based on comfort features, energy efficiency ratings, and noise levels to name a few. As your HVAC equipment can last up to 30 years, this is a long-term investment, so you want to make an informed decision.
Ignite highly recommend Napoleon's line of products as they are built in Canada, which ensures they can handle our climate extremes. In fact, Napoleon is the only Canadian manufacturer of HVAC equipment. Napoleon has a 100-percent focus on new products, which is a strong reason why Napoleon products continuously surpass industry standards to provide you with confidence in the HVAC system being installed. Napoleon is one of Canada's Best Managed Companies and is not a publicly traded company, which results in superior products to customers, instead of concern over the bottom line for shareholders.
At Ignite Heating and Air Conditioning, your comfort is our concern. I believe every job is to be completed in a professional manner with quality workmanship and respect for the homeowner. If you are unhappy with your current HVAC contractor or don't have one, give Ignite a call at 780.919.4916 today.