As winter's icy fingers tighten their grip, the harsh reality for Edmonton homeowners and car enthusiasts sets in: stepping into a freezing garage is bone-chilling. Yet, worry not, for there's a tailored solution waiting for you: the garage heater!
You might be on the fence, unsure if this investment is truly worth it. Picture a garage heater as a snug, protective blanket for your beloved car. Regardless of the snow piling up outside, it ensures your vehicle stays comfortably warm and primed for action. Now, you may wonder, "Is this really the right choice for me?" The answer is a resounding yes! It's an investment in your comfort and the well-being of your car. No more shivering when you step into the garage. No more worrying about your car's engine in the cold.
By considering a garage heater, you're not just ensuring a warm haven for your vehicle; you're securing a sanctuary for yourself during the biting winter months. So, whether you're an Edmonton homeowner or a passionate car aficionado, this solution gives both warmth and peace of mind. Embrace the winter with open arms, knowing that your garage is a cozy retreat, ready to welcome you and your car.
Now, let's explore the different types of garage heaters and help you choose the perfect one for your needs, ensuring your garage becomes a haven of warmth and comfort this winter.
Why Do You Need a Garage Heater?
Now, imagine this scenario: no more hurried mornings, teeth chattering as you rush to work. No more pleading with your car to just start already. A garage heater is your ticket to a different story. With a garage heater, your car is ready to roll, engine purring contentedly, from the moment you turn the key. It's comfort, convenience, and style all rolled into one.
Car Safety
But it's not just about the comfort. It's about the longevity of your vehicle, too. Cold starts can be hard on your car's engine, kind of like asking it to run a marathon right after it wakes up. A warmed-up engine is a happier, more efficient engine. It's like a cup of coffee for your car, giving it that little boost it needs to perform at its best. So, let's keep that engine warm and roaring, shall we? Your car will thank you. And you'll thank yourself every time you step into a cozy, warm garage, ready to start your day right.
Home Comfort, All Year Round
A garage heater is useful for other purposes as well. Imagine having a warm space for those DIY projects or a cozy corner for some quiet time. A heated garage transforms into an all-season oasis right in your home.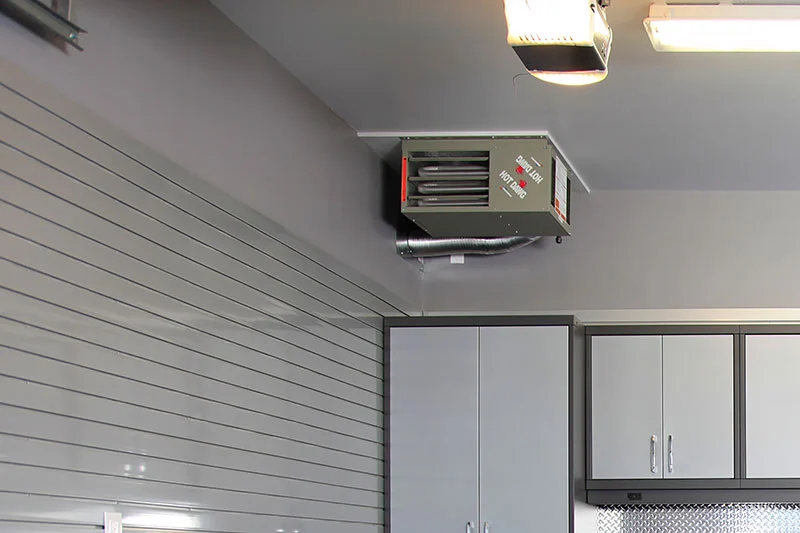 Ignite Heating & Air Conditioning are proud to be preferred vendors of the Modine Hot Dawg brand.
Choosing the Right Garage Heater.
When it comes to selecting the right garage heater, Ignite Heating and Air Conditioning offers two exceptional options. With over a decade of experience, our team of experts specialize in providing quality installations to make your garage an extension of your home's comfort.
1. Modine Hot Dawg Garage Heater:
Ideal for home garages, workshops, and light commercial spaces.
Six sizes available, running on propane or natural gas.
Certified for residential, commercial, and industrial use.
Key features: Low profile installation, 1" from the ceiling , right or left control options for installation, power vented with smaller vent pipe diameter,, and fan guards.
Requires minimal maintenance, backed by a 10-year heat exchanger warranty and a 3 year warranty on all parts.
2. Qualitec GRT Heater:
Designed for residential and garage workspace use, meeting high CSA standards.
High thermal efficiency (82%+), providing radiant heating.
Adjustable BTU settings with 2 stage gas valve, compatible with natural gas and LPG.
Smart Control ready terminal, direct spark ignition, and self-diagnostic module.
CSA approved for outdoor use, with vent kit options available.
Choosing the right garage heater ensures you enjoy a warm, comfortable space year-round. Ignite Heating and Air Conditioning is a proud preferred vendor for Modine Hot Dawg garage heaters, and with our expertise in installing Qualitec GRT Heaters, our experience with these systems allows you to start your day with a warm car.
Upgrade Your Garage Comfort with Ignite Heating Today!
As winter approaches, don't let the cold get in the way of your comfort. Consider installing a garage heater and enjoy the benefits it brings. Whether you're in Edmonton or anywhere else, a heated garage is a game-changer for car lovers and homeowners alike!
Visit Ignite Heating to explore your options and get ready to keep your whip warm all winter long. Don't wait—make your garage a useful part of your home!