Now may be the perfect time to do some upgrades in your home! Did you know that a new furnace and air conditioner can be an effective way to increase the value of your home? At Ignite Heating and Air Conditioning Ltd. we want to help you do that. With affordable home improvements such as a installing a new high efficiency furnace and new central air conditioning, the value of your home could increase. According to Consumer Reports, improving the efficiency of your home is one key way to increase your home's value by up to 3%.
Will it make a difference?
Consider replacing your older furnace. With a new high efficiency furnace you could save substantial amounts on your monthly gas bill. To better understand the AFUE rating on furnaces, read our previous blog post. HVAC technology has changed dramatically over the past few years. For example, gas furnaces have become more efficient (95%+) in terms of performance, functionality, and energy consumption. A new furnace can save you a lot of money each year.
In addition, a new air conditioner can keep you cool during the hot Alberta summer months. If you already have central air conditioning, the unit has a life span of about 20 years. If you air conditioner is 12 years old, your air conditioning unit is passing its mid-life point. Even if your air conditioner is only 10 years old, you may save 20-40 percent of your cooling energy costs by replacing it with a newer, more efficient model. The new models can keep you cool and save you money each month.
What will it cost?
For example, let us show you a breakdown of what it would cost for these affordable home improvements: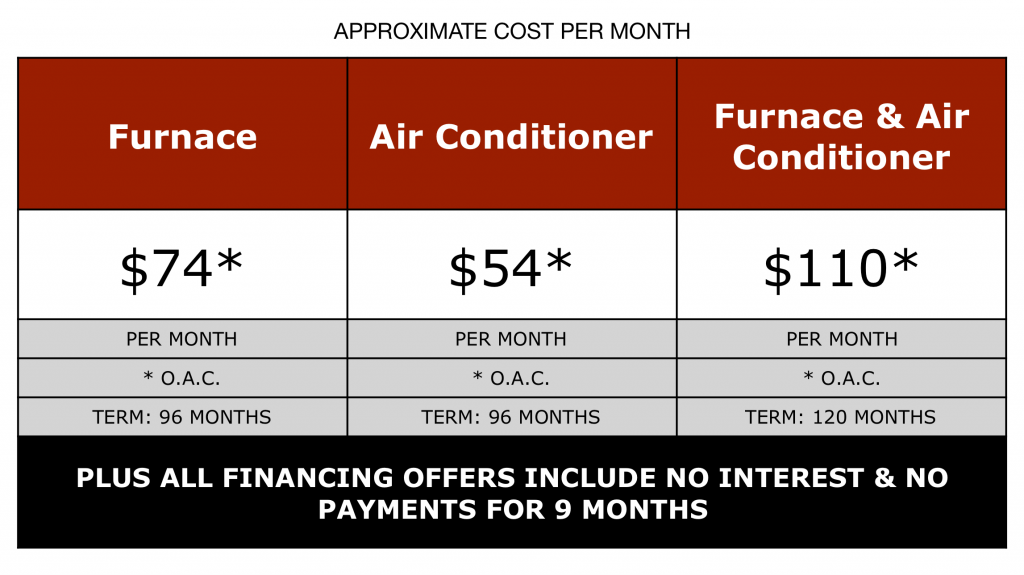 Upgrade Now
Contact us today for a free quote on installing a new furnace and air conditioner in your home. When you hire a licensed HVAC contractor from Ignite Heating and Air Conditioning Ltd. you can trust that you are getting a fair and honest price. Especially during this time we want to help you out as much as possible. We are only a phone call away and our 24 hour service guarantees that someone can help you out when you call.
Ignite Can Make Your Choice Easy
Are you ready to make some affordable home improvements? Is it time to get rid of your old, inefficient furnace and choose a Napoleon furnace? Or do you want to get ready for the summer with a new air conditioner? We can help you determine what is right for your home.
Call (780) 919-4916 or email us today. At Ignite, your comfort is our concern!