---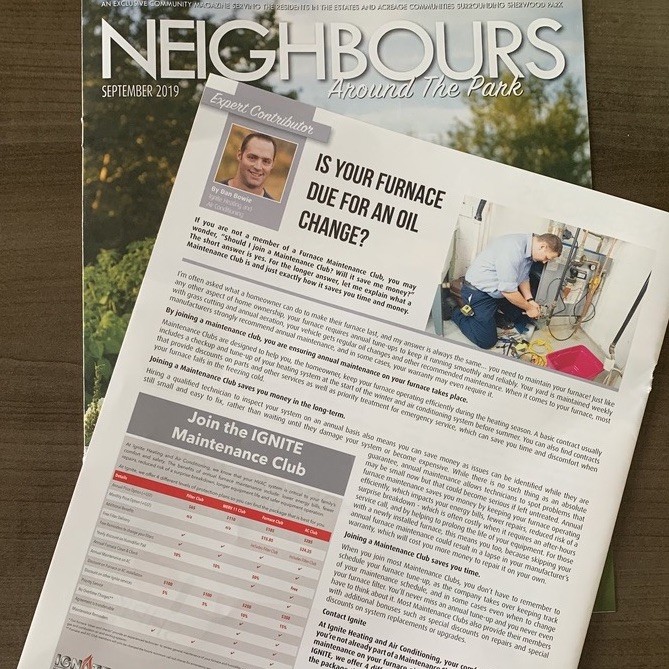 We recently shared about the purpose of Maintenance Clubs in the September edition of Neighbours Around the Park, a local magazine here sent to acreages in Sherwood Park. We wanted we'd share an excerpt here to help you out!
---
Is Your Furnace Due For an Oil Change?
If you are not a member of a Furnace Maintenance Club, you may wonder, "Should I join a Maintenance Club? Will it save me money?" The short answer is yes. For the longer answer, let me explain what a Maintenance Club is and just exactly how it saves you time and money.
I'm often asked what a homeowner can do to make their furnace last, and my answer is always the same… you need to maintain your furnace! Just like any other aspect of home ownership, your furnace requires annual tune-ups to keep it running smoothly and reliably. Your yard is maintained weekly with grass cutting and annual aeration, your vehicle gets regular oil changes and other recommended maintenance. When it comes to your furnace, most manufacturers strongly recommend annual maintenance, and in some cases, your warranty may even require it.
By joining a maintenance club, you are ensuring annual maintenance on your furnace takes place.
Maintenance Clubs are designed to help you, the homeowner, keep your furnace operating efficiently during the heating season. A basic contract usually includes a checkup and tune-up of your heating system at the start of the winter and air conditioning system before summer. You can also find contracts that provide discounts on parts and other services as well as priority treatment for emergency service, which can save you time and discomfort when your furnace fails in the freezing cold.
Joining a Maintenance Club saves you money in the long-term.
Hiring a qualified technician to inspect your system on an annual basis also means you can save money as issues can be identified while they are still small and easy to fix, rather than waiting until they damage your system or become expensive. While there is no such thing as an absolute guarantee, annual maintenance allows technicians to spot problems that may be small now but that could become serious if left untreated. Annual furnace maintenance saves you money by keeping your furnace operating efficiently, which impacts your energy bills, fewer repairs, reduced risk of a surprise breakdown – which is often costly when it requires an after-hours service call, and by helping to prolong the life of your equipment. For those with a newly installed furnace, this means you too, because skipping your annual furnace maintenance could result in a lapse in your manufacturer's warranty, which will cost you more money to repair it on your own.
Joining a Maintenance Club saves you time.
When you join most Maintenance Clubs, you don't have to remember to schedule your furnace tune-up, as the company takes over keeping track of your maintenance schedule, and in some cases even when to change your furnace filter. You'll never miss an annual tune-up and you never even have to think about it. Most Maintenance Clubs also provide their members with additional bonuses such as special discounts on repairs and special discounts on system replacements or upgrades.
Contact Ignite
At Ignite Heating and Air Conditioning, your comfort is our concern. If you're not already part of a Maintenance Club to take care of your annual maintenance on your furnace give us a call at 780.919.4916 today. At IGNITE, we offer 4 different levels of protection plans so you can find the package that is best for you.