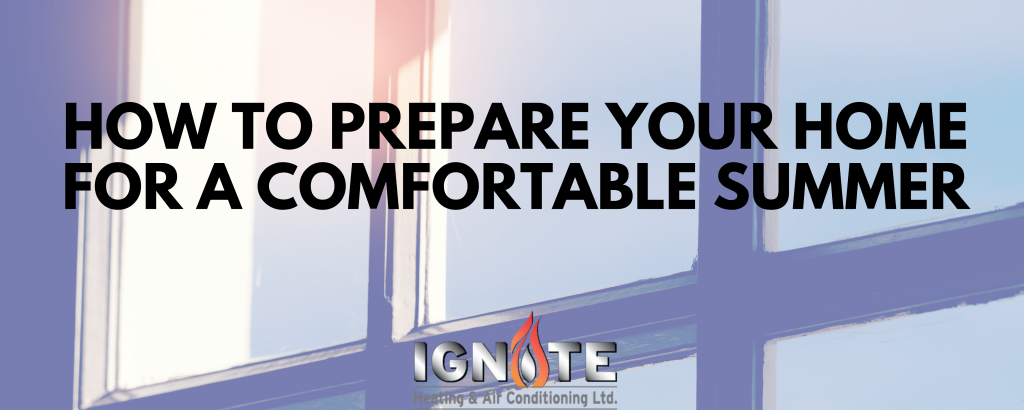 The weather is starting to warm up after a long, cold winter and we need to prepare for the heat. There is nothing quite as uncomfortable as the sticky, sweaty feeling of a house that's too hot. Are you're tired of being unable to cook inside your house? Or attempting to escape the heat by spending the whole summer in the basement? Follow these tips to prepare your home for a more comfortable summer.
Install a New Air Conditioning Unit
The number one way to make your house more comfortable this summer is to have Ignite Heating and AC install a Napoleon air conditioning unit for you. We work with you to ensure the AC unit is properly sized for your house and will keep your whole house cool. An AC unit will keep you, your family, and your pets comfortable throughout the summer. Making your home an escape from the heat and a place of comfort.
If you already have an AC unit, it may be time for an upgrade. Replacing your old unit will result in increased efficiency, decreased repair costs, and reliability that it will not fail on you during the hot summer months. Air conditioners also add to the resale value of your home. Having a high efficiency AC unit in your home will increase your homes value and appeal to buyers when it's time to sell.
Install a Smart Thermostat
Smart thermostats allow you to adjust the temperature in your home from any location. With these easy-to-use thermostats you can save on energy bills by keeping the temperature higher in your home while you are away. Then, before you get home you can turn on the AC so that you walk into a cool, comfortable home. Smart thermostats allow you to maximize comfort and energy efficiency all summer long. Contact Ignite to have a smart thermostat installed in your home.
Open and Close Doors and Windows Wisely
You may remember your parents yelling at you to close the windows and shut the blinds when the sun is shining, and they were right. If you have an AC unit running, making sure the doors and windows are closed during the day will keep the cold air in and the heat out. If you don't have an AC unit, closing doors and windows will keep the heat out during the day. Then, opening doors and windows later will let the cold air in at night. Using these techniques is a simple and effective way to keep your house cool in the summer.
Change the HVAC Air Filter
Your HVAC air filter should be changed every 30 days in the summer. This ensures that the air circulating through your home is clean and not full of dust and debris. There is more dust and dirt flowing through the air than normal during the summer months so it's important to keep an eye on the filter to avoid buildup.
Beating the heat in the summer can be challenging, but your home should always be where you feel the most comfortable. Use these tips to prepare your home for the heat and have the most comfortable summer yet. Our top recommendation is to get a new air conditioning unit installed by Ignite Heating and Air Conditioning professionals.
Contact us today at 780-919-4916 to learn about our financing options for a brand new AC unit installation.