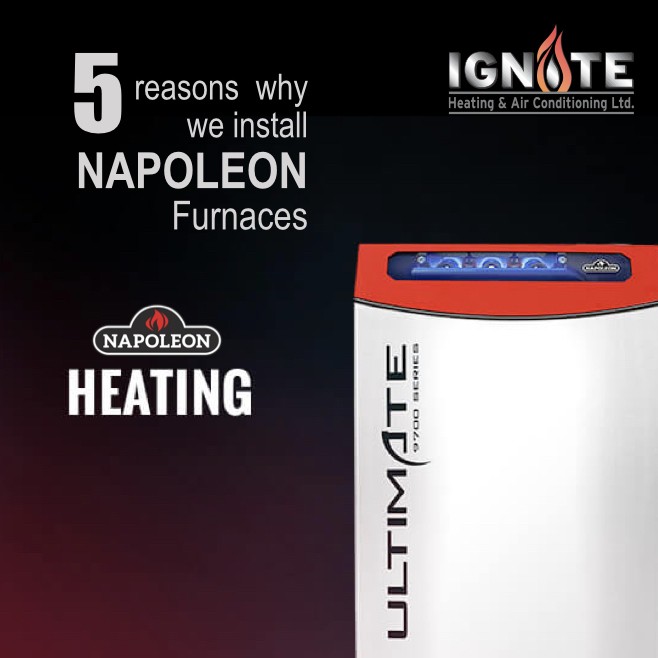 1) 100% Canadian
Napoleon products are made in over 1,200,000 square feet of manufacturing space in Barrie, Ontario. Napoleon is the only furnace and air conditioner to be made 100% in Canada.
2) Competitive Warranty Included.
Napoleon furnaces have a Lifetime Heat Exchangers Limited Warranty. This means Napoleon will replace the heat exchangers if they fail during the owner's lifetime
Napoleon furnaces also come with:
10 Year Unit Replacement Heat Exchanger Limited Warranty: Napoleon will replace the whole furnace if the heat exchangers fail within the first 10 years (this is upgraded to 15 years for the 9700 Series Furnace)
10 Year Parts Limited Warranty: Napoleon will replace the part if it fails within the first 10 years
At Ignite we also provide a 10 year labour warranty on the Napoleon Furnace we install.
3) Increased Efficiency
The 9700 and 9600 series furnaces are a two-stage furnace, which allows for longer calls at 60% of full capacity – this helps to eliminate "cool spots" in your house as there is more warm air moving in your house for a longer period of time.
Napoleon furnaces come with a variable speed blower which increases the amount of warm air circulating through the ducting system to allow hot air to mix with cold air to ensure that there is no cold air coming out of your supply ducts.
Napoleon furnaces have an Electronically Commutated Motor (ECM) blower motor will save over 80% in energy cost over your PSC (Permanent Split Capacitor) when running your furnace fan.
4) Innovative Design
Napoleon's 9700 series furnace has multiple patents that provide standard features none of the current furnace makers offer:
Vortex turbulator heat exchanger: maximizes the flue gases time in the heat exchanger and is 100*F hotter than a conventional heat exchanger.
Stainless Steel Heat Exchanger to last longer
SureView Burner System: offers a unique view of the flames in operation.
Built in LED lights that automatically turn on when the blower door is opened.
Ultra Violet Light Air Purifier: built in to the furnace to improve air quality
5) Competitive Pricing
Napoleon is very competitively priced compared to similar alternatives – where many other manufacturers offer the two-stage as an upgrade this is standard in the Napoleon 9600 and 9700 Series.
Are you ready to replace your furnace? Give Ignite a call at 780.919.4916 today to schedule your free quote and let us help you explore your options for a new Napoleon furnace. At Ignite Heating and Air Conditioning, your comfort is our concern!